This problem often refers to your inventory management system. First go to results then inventory and select the country where you are experiencing a large amount of "no sales". Take a look at the graph or the table to see your demand numbers each week, as well as seeing what inventory levels you have as well in stock. You ideally always want to have your inventory level above the demand levels. To do this you may need to adjust your automatic order limits in the country where you are having problems. To do this head on over to decisions, then countries, select the country you want to adjust your inventory levels and scroll down to the bottom of the page.
To explain the Automatic Inventory ordering system let me use the example below:
Let's say we select the slow 'Speednet' as our Distributor (6 weeks delivery time):

And we had set our automatic order levels like this: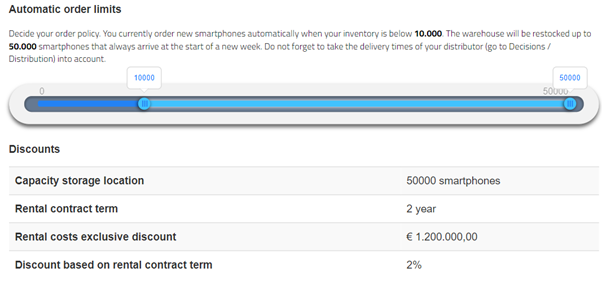 ​In this scenario, you would not order any new inventory until the inventory level drops below 10.000 phones in a certain week in this country.
Let's say in a certain week your inventory dropped from 11.000 to 9.000, you would then order 41.000 phones, but they will be delivered in 6 weeks time.
The issue that your team may be having is that you have either set your reorder limit too low, as well as your order high limit too low, so you may need to increase both factors.
In the first rounds we would advise your team to select the faster distributors as you do not have a lot of experience yet with the weekly demands yet.