What is Hybrid Learning?
Hybrid learning involves the synchronous teaching of two different groups of students: one group is in the classroom/lecture theatre while the other is remote, watching the session online, typically via lecture capture software.
It's not to be confused with blended learning where both face-to-face and online learning activities are employed for the whole class, often rotating these activities each week.
Hybrid learning has opened doors for students who want to experience the many qualities of UK Higher Education whilst studying online in their homes - a particular advantage to those international students who cannot afford the in-person/on-campus expense or were unable to secure a visa in time.
If done well, students can reap the merged benefits of both face-to-face and online learning within their respective settings. In this post, we outline four tips to create an effective hybrid learning approach.
EdTech - No one Expects an Expert
Keeping up to date with your own area of expertise is challenging enough; keeping up with the rapid pace of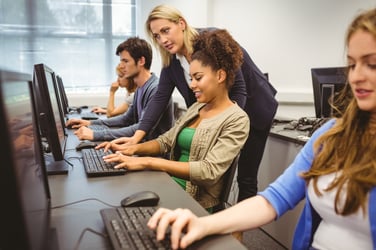 education technology (EdTech) would create an unnecessary conflict and only add to your workload.
Academic and Teaching Staff are not expected to be experts on EdTech. However, they should be able to see how technology can enhance pedagogical approaches and improve the learning experience of students.
It's important to make use of your university's Technology Enhanced Learning (TEL) teams or IT experts who know about this technology. They can advise on how it can be integrated into your pedagogical approach and learning objectives.
Lead with your approach first and let technology support your teaching. Not the other way round.
Outline your Hybrid Learning Plan
I'm not intending to patronise the reader in this sub-heading! I am sure this has already been well thought-out. But after a volatile year and a half thanks to the pandemic, many returning students have moved from distance to on-campus, back to distance again, and now to a hybrid learning environment.
Outlining and rationalising your plan to your students will provide valuable clarity and comfort, alleviating the 'what if' questions that may be in the back (even front) of their minds.
Make it clear to your students from the start the exact format for your lectures, tutorials, workshops, how the two groups can and are expected to interact, what support you can provide and what technology will be used throughout. It's also worth considering a contingency plan should another lockdown be enforced.
It's been a volatile period for students. Hybrid learning plans and contingency plans will help alleviate any uncertainty.
Avoid the Silos - Unite your Students!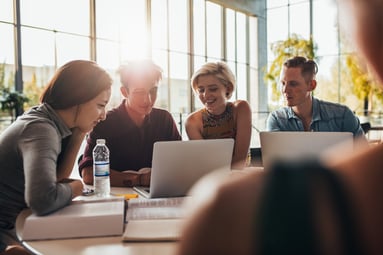 Not in some form of revolutionary movement - this sub-heading may be slightly misleading!
The aim is to remove the unwanted silo effect of hybrid learning, where the two groups become separate and disjointed, learning in different ways with little contact from one another. That's not what we want.
Instead design and assign group-based tasks that cross both sets of student groups. Technology has shown how feasible (and easy) this is to implement over the past year and a half so no need to press the pause button now restrictions have eased.
In addition, make more use of your VLE. Setup forums and discussion boards, have a blog section for students, even a chat function (where possible) to increase the opportunities for students to connect. Consider scheduling Keep In Touch (KIT) calls for your remote students to have more interaction with their Lecturer/Teacher, to ask questions and meet fellow students. With course enrolment and content already "breaking the ice", let technology connect them further.
Better still, work with your professional development and/or student services teams to host sessions on setting up healthy remote-learning routines and environments. Many of us have to do this for work; the same applies for study.
More and more employers now look for candidates that are able to work remotely and within and across teams in different settings (even time-zones). Hybrid learning that involves cross-collaboration and team-based tasks across remote and face-to-face groups can provide many examples for your students to utilise. It's a valuable skill that can be harnessed and developed but not easily exemplified, giving your students an edge.
Feedback - Trial, Error, and Endeavour
As per point two above: no one expects an expert. Allow for trial and error. These are still unchartered waters for many no matter how much time you invest in your hybrid learning plan or how many check-ins/KIT calls you schedule and how well setup your VLE is for connecting all students.
Get qualitative feedback from both groups of students: run focus groups half-way through and at the end of each module. Collect data that will help inform your future approaches to hybrid learning; what went well and what did not.
These evaluative approaches are often used by academic and teaching staff using our business simulations. Here they task their students with writing and/or presenting an evaluation of their fictional company's performance in the simulation. Practise what you preach!
Once feedback has been embedded within your schedule, you'll be able to routinely evaluate, improve, and evidence your approach as the higher education learning environment adapts and evolves.
In summary, harmonising the two approaches of face-to-face and remote learning will create an interactive and joined-up experience for your students, fostering student engagement and improving learning outcomes.
The best of both worlds.
---