80 students compete to become Champion of the Chocolate Market!
The stage was set on Thursday 11th March for students from Reykjavik University to compete in our annual Student Competition in Iceland. This year they took part in our ProSim Classic simulation, manging their own chocolate company.
What is the ProSim Classic simualtion?
This management simulation is designed to test students' ability to work in teams (around 5-6 students), create growth strategies, monitor inventory, and, above all, gain market share to earn points.
Students initially determine the name of their chocolate brand then compete in rounds (equivalent to one year of operations), paying careful attention to the type of product they want to create and what operational support is required to ensure product stock and sales are optimised.
At the end of each simulation round these points are tallied up and after the 5th round the team with the most points wins the competition!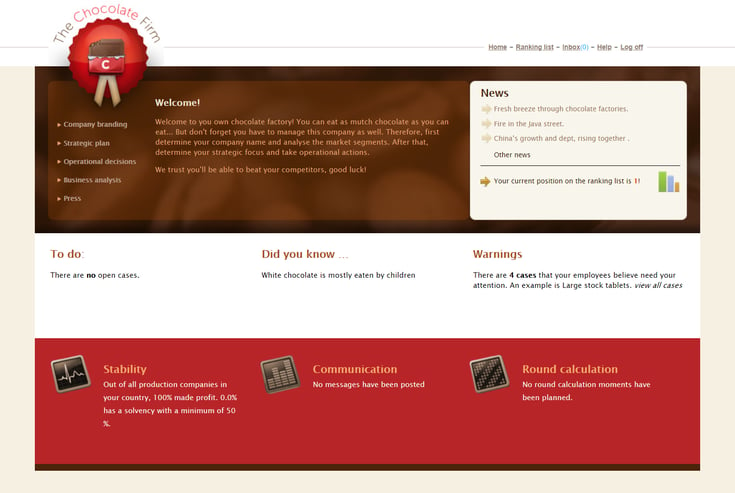 Find out more about our management simulations via the button below.
IN the beginning...
At 5pm (GMT) we started with an introduction from Hrund Steingrímsdóttir and Saga Ýr Kjartansdóttir of Reykjavik University. They offered students advice and encouragement ahead of the first round, emphasising the importance of team work and participation.
Then it was over to our UK Operations Manager, Gijs van Dujin who provided students with an overview of the simulation itself and how to manage it during each round.
He was also feeling quite generous and offered this useful piece of advice to the student teams:
"Investing heavily in inventory, marketing, or machinery will likely pay off later in the simulation...with more market research you'll be able to see how markets are developing and how your competition is doing."
After those words of wisdom, the students went off into their breakout rooms and began round one!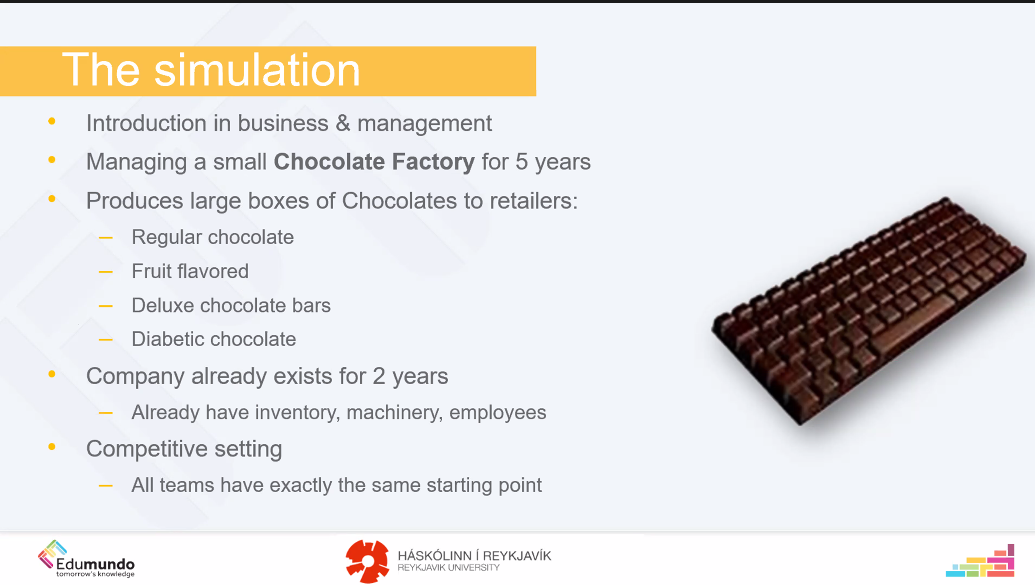 At the End of the first round…
The top three groups were:
| | | |
| --- | --- | --- |
| Rank | Team | Score |
| 1st | Pleasant Chocolate | 112.55 |
| 2nd | CHUCDELUXE | 112.50 |
| 3rd | EKKA Súk | 112.20 |
Some interesting team names there, but a 'pleasant' surprise at the top of the table, in 'Pleasant Chocolate' - albeit, by the smallest of margins at 0.05 points ahead of CHUCDELUXE.
As Gijs remarked:
"Everything is to play for with the scores very slim!"
It's not often we hear the words "very slim" and "chocolate" in the same breath but in this case he was spot on!
Ahead of Round 2, one of the students raised a very good query about production capability within their company's machines, highlighting that their production rate was lower than expected. Gijs pointed out:
"Due to the machinery available and invested in, amounts will be limited; students start with 3 machines initially which produce 150 boxes per machine".
A careful reminder from Mr. Van Dujin for students to take a look at their inventory and investment in machinery in order to produce more stock!
The Final Stages and Winner's Ceremony
After Round 2 and a well earned break, we had a presentation to the students from the University's 'Student Association', lifting spirits ahead of the final rounds.
After rounds 3, 4, and 5 the teams could relax at the end of a hard day's work (roughly equivalent to 5 years of operations management in one evening!)
At 20:45, it was time for the 'Winner's Ceremony', the points had been tallied and the results were in...could Pleasant Chocolate maintain their grip on first place? See the table below to find out!
| | | |
| --- | --- | --- |
| Ranking | Team | Score |
| 1st | SEMJa | 213.36 |
| 2nd | P.B.W.C | 205.96 |
| 3rd | Chocolate Chief | 201.19 |
| 4th | Napoleon's | 199.32 |
| 5th | EKKA Súk | 198.00 |
| 6th | Tiki Choco | 195.22 |
| 7th | Pleasant Chocolate | 194.82 |
| 8th | Melt In Your Mouth Inc. | 193.75 |
| 9th | Gru's Chocolate Factory | 192.51 |
| 10th | gamechoc | 187.25 |
SEMJa Wins!
Welcome to Edumundo's Hall of Fame, SEMJa!
Cadbury, Hershey, Galaxy, Tonie...there's a new guy in town!
Pleasant Chocolate slipped to 7th with Ekka Súk taking 5th place with CHUCDELUXE falling to 11th after the first round. Some impressive scores overall, some very close but a clear 1st, 2nd, and 3rd after the fifth round.
On name alone, 'Chocolate Chief' was also a winner! What a great brand name!
A brilliant showing all around from the 80 students and 21 teams!
After the competition, Hrund had these kind words to say to us:
"Thank you for a great evening. Everything went well and the students were active and interested in the simulation. We are looking forward to next year and now we know that the simulation event works perfectly both in-house and fully online."
We want to take this opportunity to thank all the student participants and the staff at Reykjavik University for contributing to a very successful competition.
See you next year!
---
Find out more about our management simulations
Phone Ventures is one of over 10 management simulations we have to offer, covering a wide range of business disciplines such as Marketing, International Business, Business Consultancy, Business Management, Accountancy, and Financial Management. Find out more about them or request a free demo via the button below.
Want to run a similar competition at your University?
We run management simulation competitions like this at a variety of different universities across the globe, please click on the button below to get in touch about running one at yours!